Frank Lloyd Wright design this house between 1936-1939. It is considered one of the best architectural works of the 20th century.
Now next we will see the plans of this beautifull house: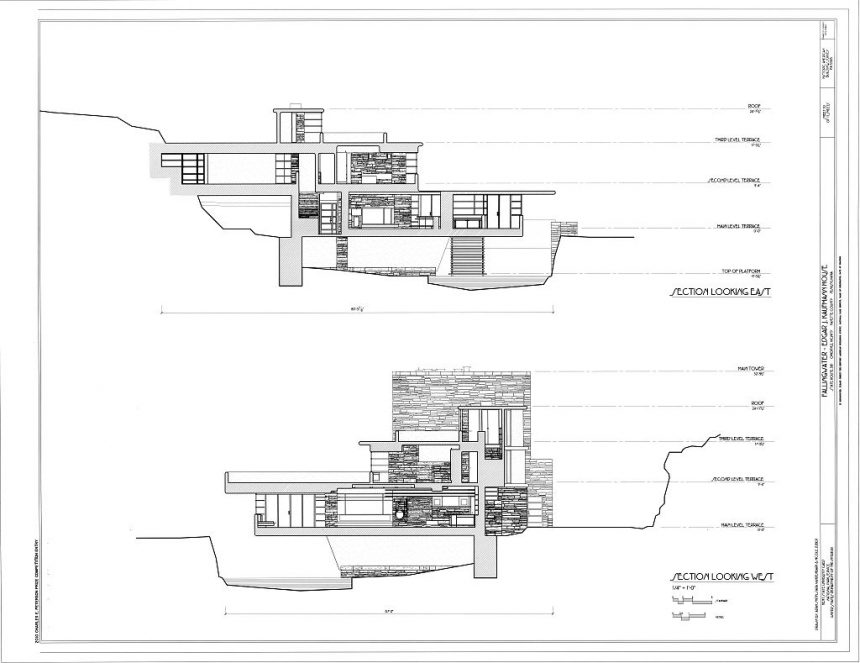 As we can see in the previous images, we have an aerial plan, two-section plans, and two elevations.
Fallingwater is a composition of varied materials—stone, concrete, steel, glass, and wood—each imbued with qualities that celebrated what Wright termed "organic architecture." Like organic elements in nature, these materials have shown signs of deterioration over the past eighty years, due in large part to their exposure to a range of climate conditions, especially humidity and sunlight that have impacted the collections and the severe freeze-thaw conditions of southwest Pennsylvania and water infiltration that affect the structural materials.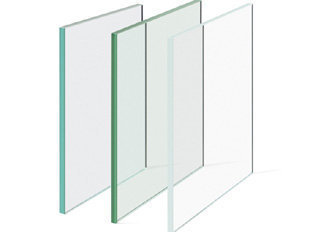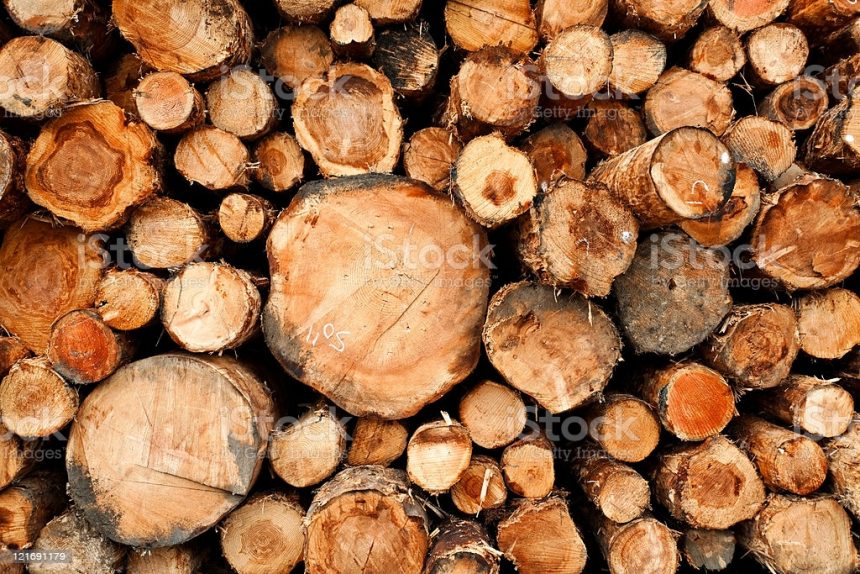 ANALYSIS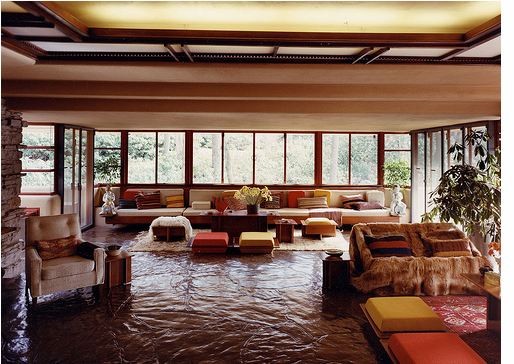 The circulation through the house consists of dark, narrow passageways, intended this way so that people experience a feeling of compression when compared to that of expansion the closer they get to the outdoors. The ceilings of the rooms are low, reaching only up to 6'4″ in some places, in order to direct the eye horizontally to look outside. The beauty of these spaces is found in their extensions towards nature, done with long cantilevered terraces. Shooting out at a series of right angles, the terraces add an element of sculpture to the houses aside from their function.
The house took on «a definite masonry form» that related to the site, and for the terraces they decided on a reinforced-concrete structure. It was Wright's first time working with concrete for residences and though at first he did not have much interest in the material, it had the flexibility to be cast into any shape, and when reinforced with steel it gained an extraordinary tensile strength.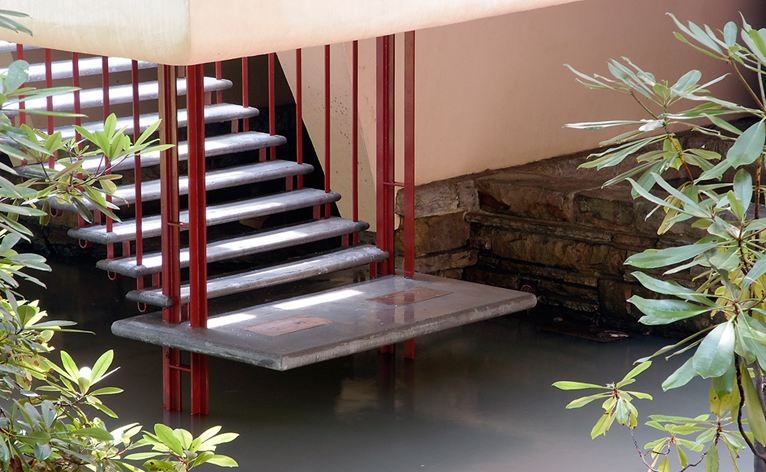 The exterior of Fallingwater enforces a strong horizontal pattern with the bricks and long terraces. The windows on the facade have also have a special condition where they open up at the corners, breaking the box of the house and opening it to the vast outdoors.
The perfection of these details perfected the house itself, and even though the house tends to have structural problems that need constant maintenance due to its location, there is no question that Fallingwater, now a National Historic Landmark, is a work of genius. From its daring cantilevers to its corner window detail and constant sound of the waterfall, Fallingwater is the physical and spiritual occurence of man and architecture in harmony with nature. All you have to do is listen.
https://www.khanacademy.org/humanities/ap-art-history/later-europe-and-americas/modernity-ap/a/frank-lloyd-wright-fallingwater